MODS ARE AS FOLLOWS:
ATI D-1SC with 3 core intercooler
4" and 3.4" pullies
Stage III Heads Ported and Polished w/ 2.02/1.6 Valves Flowing 282/228@.500 under 29" H2O
Comp Pro Magnum rockers and valve train
Custom Grind Blower Cam .533/.510
Ported and Polished Lower Intake
JE Diamond Forged Racing Psitons
Eagle Forged Rods
Billet Main Caps
01 Honed Block
Custom Flashed ECU
JBA Jet Coated Headers
Custom Y Pipe
Custom 3" Full Exhaust
High Flow Cat
Dynomax Bullet 3"Inlet and Outlet
Centerforce Dual Friction Clutch
B&M shifter
B&M electric fan
MSD-BTM
MSD 8.5 Wires
Weld Drag Lites 15x10 Rear 15x10 front
Nitto 555 Drag Radials
MT/ET Streets 26x11.5x16
Comp Engineering Adjustable Drag Shocks
Lakewood Traction Bars
Boost, Fuel Pressure, and A/F Ratio Guages


I'd like to give a special thanks to Bill Mach of Mach Performance out of Michigan for all the work and time spent in the truck. Also to my cousin Josh who has helped me do numerous things to my truck, and a thanks to ProCharger for their great service.

Thanks again

Brett S.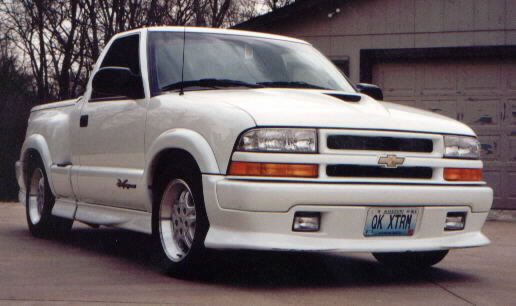 This is my good friend Hal. I took this picture on his birthday. I think he likes to be in pictures.